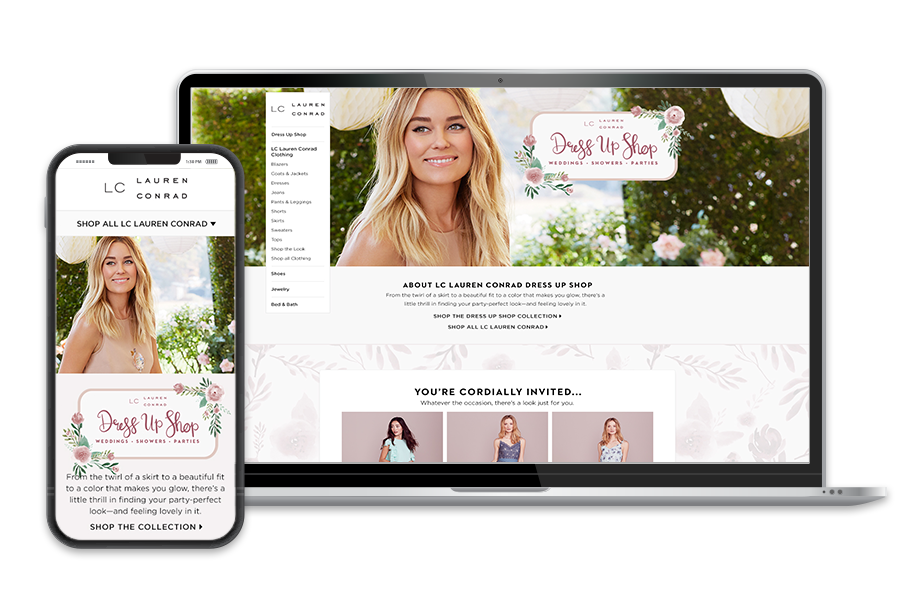 Digital Experiences
As the leader of art direction, design, and development, I created several brand and seasonal digital experiences, such as LC Lauren Conrad and trend destinations. Based on marketing strategies, I collaborated with copywriters and photo art directors to create immersive experiences that showcased product and content priorities through storytelling and inspiration. The result was engaging experiences that effectively highlighted the brand and seasonal themes.
Read about my work on the LC Lauren Conrad brand digital experience below.
LC Lauren Conrad digital experience
Opportunity: In 2017, the Marketing teams recognized an opportunity to transform Kohl's exclusive brand LC Lauren Conrad's digital content strategy and experience in order to showcase the brand's evolving vision and engage customers.
Solution: I collaborated with my copy partner to develop storytelling updates that centered around product delivery themes and new launches. This involved highlighting various collections, including the Dress Shop, Festival, Maternity, Swim, and Runway collections.
Outcome: The LC Lauren Conrad brand successfully transformed its digital content strategy and experience. Storytelling updates effectively highlighted collections and product delivery themes and showcased the brand's evolving vision.
Skills used: Visual design, creative concepts, typography and layout, photography and illustration direction, HTML/CSS, storytelling, communication, collaboration, project management, trend awareness, problem-solving, adaptability